2017 Fall Conference Keynote Speaker
Dr. Randy Guthrie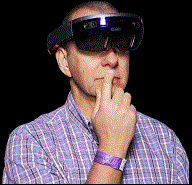 This year's opening session/keynote presenter, Randy Guthrie, PhD, will no doubt empower all IBEA members to exchange, engage, and enlighten with each other, students in their classrooms, and colleagues at their respective schools!

Dr. Guthrie is a Senior Technical Evangelist for Microsoft Corporation within the Commercial Software Engineering (CSE) organization. In his current role, Dr. Guthrie is responsible for planning and directing national higher education outreach strategy and managing a portfolio of elite university relationships with a focus on assisting professors and TAs in the adoption of cloud computing technologies into curriculum.

His presentation, "The Story of the Cloud – and Why Educators Care" is sure to engage YOU!

Until November's conference, be sure to follow him on Twitter @randyguthrie and to check out the great resources available for your business education classroom on Randy's Microsoft Developer website at https://social.microsoft.com/Profile/randy%20guthrie.

Many thanks to Randy and, of course, Microsoft, for sponsoring his keynote address.